During his heyday in the 1960s, Jimmy Lee Ballard was a staple on the central Kentucky music scene. His effortless delivery and Southern drawl suited both traditional country and clearly more rockin' cuts.
When I decided to launch this page to finally start sharing some research and information from a never-published book, I had no doubt that Jimmy Lee would be the first entry. He remains my favorite local singer and I hope this will help his legacy live on.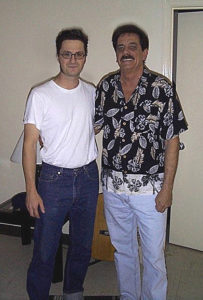 Jimmy was great to speak with. While he obviously wanted more from his career, he certainly did not dwell on the past. I had to convince him NOT to give me the only remaining copy of his original photographs and probably the only copy of his unreleased late 60s Nashville session recordings.
Well, whatever, if you copy 'em and bring 'em back that's fine, but it don't matter. I don't never look at 'em. This tape's just been laying in a drawer. I don't need to hear me. I'll put on some Jimmy Reed or something and just go on.
Jimmy Lee died on August 25, 2007 and as an Air Force veteran is buried in the military cemetery at Camp Nelson. RIP buddy.
Below is the original rough cut-and-dried entry for Jimmy Lee. This was written around 2001.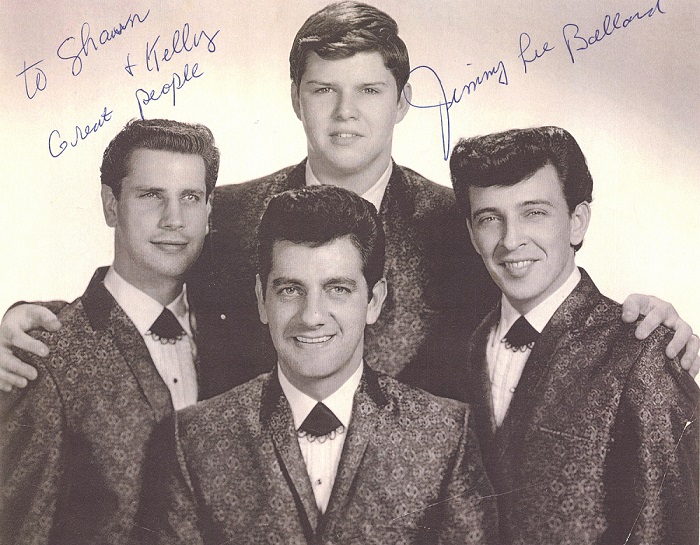 JIMMY LEE BALLARD
James Lee Ballard               (vocal, guitar)
b Jan 3, 1937 near Paris, Bourbon Co, KY
In the segregated Lexington club scene of the late 1950s and early '60s, Jimmy Lee Ballard was one of a handful of musicians who successfully crossed the "racial divide" to deliver his own blend of country, rock, and rhythm n' blues to eager audiences—both black and white.
Born and raised in Bourbon County, a teenage Jimmy Lee learned to play younger brother Johnny's guitar by imitating the country records they played.  By the mid '50s, he was playing different square dances with fiddler Joe Weber in Lawrenceburg.  In 1958 Jimmy, Johnny, and Kenny Whalen recorded two sides that were issued on the Starday label.  The trio stayed together and worked area dances, but still with a primarily country repertoire.
By 1960, Jimmy Lee had begun playing guitar for the Rhythmrockers. This rhythm and blues band was led by saxophone player Charlie Bishop, and featured the Lizzy brothers—Johnny and Wendell—on drums and piano, respectively. Jimmy convinced his brother Johnny to switch to the bass guitar and was able to secure him a position with the Rhythmrockers, too.  It was through his association with the Rhythmrockers that Ballard began to first appear in places like the Cotton Club, which catered to a black clientele.
When Jimmy Lee decided to cut a new record, he convinced the Rhythmrockers to appear as session players. In an attempt to achieve a driving sound, Jimmy Lee hired in guitarists Bill Wasson and former bandmate Kenny Whalen. This twin guitar attack coupled with the tight backing of the Rhythmrockers, produced just the sound he was seeking.  The Ballard penned songs "Darling Take My Hand" and "Say You'll Be Mine" were recorded at WMST in Mount Sterling. The masters were played for Bob Mooney at fledgling REM records in Lexington, who agreed to release the single on his label.  The songs received strong regional airplay and "Darling Take My Hand" was quickly covered by fellow Kentuckian Billy Adams and released on the Ashland based Fern label.  Shortly after this first single was released, Ballard quit the Rhythmrockers.
Jimmy Lee formed his new band with Johnny Ballard as bassist, Bucky Harper on sax, Shirley "Jay" Congleton on drums, and Norman Osborne at the keyboard. Dubbing themselves "Jimmy Lee Ballard & the Rejects", the boys quickly found engagements at Joyland Casino and other local venues. A second single followed in 1962 with this new lineup.  "Tell Me Little Darling" backed with the instrumental "A Different Twist" enjoyed much regional airplay. Both songs were composed by Jimmy and Johnny Ballard and, again, released by REM.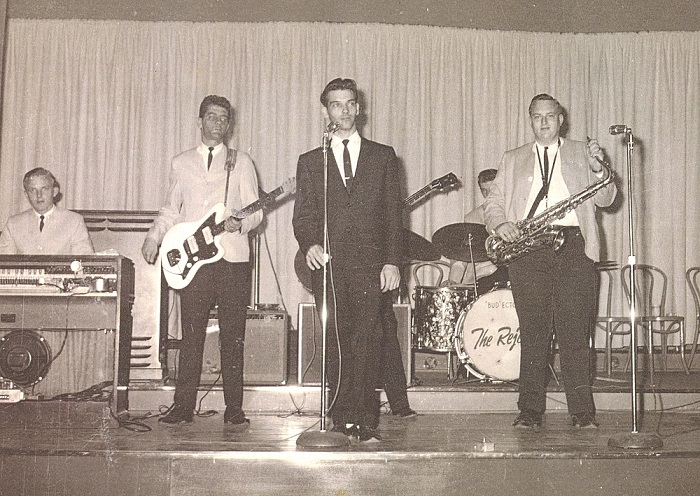 During the early '60s, Jimmy Lee was touring with several acts in addition to fronting his own band. Roadwork with a young Charlie Daniels, Conway Twitty, Billy Joe Royal and Timi Yuro gave Jimmy Lee the experience and contacts he would need as he prepared a midwest tour with his own band.  Locally, he began playing behind many top rhythm n' blues acts like Jimmy Reed and Ike & Tina Turner.
A newly formed band—Jimmy Lee Ballard & His All-Niters—struck out for the midwest in 1964. In addition to bassist Johnny, Jimmy added Daryl Wainscott on keyboard and Jerry Cole on drums.  After successful stays in Wichita, Kansas, and Tulsa, Oklahoma, the road- weary boys returned home. A release of two original compositions quickly followed—"Wang Dang Do" and "I Love Her".
Jimmy Lee continued to play regionally through the late '60s. In 1968, Ronnie Dove organized a Nashville recording session for him. Arranged by Ray Stevens and with backup vocals by the Anita Kerr singers, the songs were never released due to a disagreement between Ronnie Dove and a partner.  He returned to Lexington to a nightly gig at Marty's where his band backed touring acts such as Jerry Lee Lewis, Johnny Tillotson, and Stax's Eddie Floyd.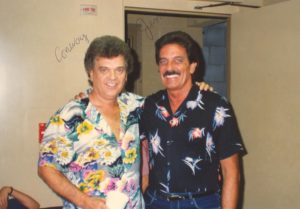 Ballard formed a new band in the mid 1970s with Kent Gaitskill on bass and Danny Thurman on drums. The Jimmy Lee Ballard Band was meant to be temporary, but ended up playing continuously at the Van Hoose Steak House in Paris through the mid '80s. By the late 1980s, Jimmy Lee had slowed down considerably and was primarily performing at private functions.  Still possessing a great love of music, he is semi-retired and lives in Lexington.
Discography:
REM
305  Say You'll Be Mine / Darling Take My Hand                          1960
317  Tell Me Little Darling /  A Different Twist                               1962
354   Wang Dang Do / I Love Her                                                    1964
STARDAY
362  Craving Your Love /   Nobody But You                                  1958
Unreleased recordings 1968:
This Should Go On Forever
If You Need Me
I Think It's Going to Rain Today (title? not familiar w/ this cut)

As a side note – Jimmy Lee is often lumped together on discographies, etc with the significantly older Jimmie Ballard who recorded on the Ohio-based Kentucky label and elsewhere. There is no connection what-so-ever between these two performers.
Interview Disclaimer: The interview below is my initial contact with Jimmy at his home in 2000. The interview has been lightly edited (some questions / answers re-arranged chronologically and/or combined for readability). The intent was not to publish and I have tried to always transcribe verbatim – so any grammatical errors are left in place – no way I will (sic) everything. Any factual errors are my mis-understanding to a low quality mini-cassette, faulty memory or a combination of the two!
*****
Interview with Jimmy Lee Ballard—October 23, 2000
SC: Shawn Chambers
JB:  Jimmy Ballard
 
SC:  You were born in Bourbon County, was it in Paris?
JB:   Right outside there…in rural Bourbon County.
SC:  Okay and what is your birthday?
JB:   January the 3rd, 1937. I'm 63 years old.
SC:  When was it that you first took up the guitar?
JB:    Well, I'll tell you exactly when it was. I was about thirteen. My mama had bought Johnny a little guitar. I had an uncle that could play anything with strings on it and my daddy played a little.  Johnny used to listen to Lester Flatt and Earl Scruggs and try to learn something from them.  So one Thanksgiving when he came home for the holidays, he forgot to take his guitar back with him to school.  There come the most awful snow you ever saw…I mean four or five days.  We couldn't even walk to the grocery store which was only a mile away. I was just snowed in. I sat down with the guitar and started playing our old record player—Bill Monroe, Lester Flatt, Carl Smith, Lefty Frizzell—and I picked the guitar and tried to do what they did. First thing you know I was learning a little…hitting some G and C chords.  I had watched Johnny a little bit, but was never that interested. But, then it just came to me.  A guy down the road had a banjo and he started showing me some things.  I would sit around and pick it by myself and sing songs. You know if a new song came out— if I liked it I would try to learn it. That's how I got started.
SC:  Did you have much opportunity to play over in the Paris area growing up?
JB:   Well some…I started playing some Saturday night square dances. I would get up at the end of each hour and play some rock-n-roll. This was mainly it, though. Some square dances and the occasional honky-tonk billing.
SC:  Who were you playing with at that time?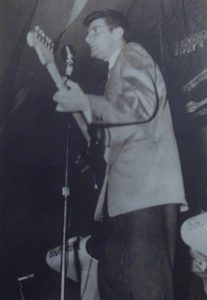 JB:   Well…it seems like the first place I was playing was Lawrenceburg with a fiddle player named…uh…Joe Weber.  He was a real good fiddler.  Somehow or another, he found out about me and we started playing some of the Saturday nights for a while…some of the square dances. Of course, I was playing stuff like Chuck Berry—rock and roll. We were making about eight bucks a night…(laughs) , but that's when I first started really playing I guess. But then me and Kenny (Whalen) and Johnny (Ballard) got together and started playing. We played down there ourselves for a while on Saturday nights. Probably 1959 was when I got to playing more seriously and more often.
SC:  How easy was it for you guys to get shows in the Lexington area at that time?
JB:   Pretty darn easy! (laughs)  There really was only two or three bands playing rock and roll at that time. The black band the Houserockers, Little Enis and the Tabletoppers and my band. There was just about three or four clubs at that time. So we were really able to get all the work we wanted.
SC:  Now the first recording I'm aware of is the 1958 Starday 45 of the Ballard Brothers…
JB:   Yeah, that was really Johnny's thing.  I was there doing a little harmonizing and guitar playing. We recorded that up at Cincinnati. I know it was Johnny and Kenny and me. I thought that thing was horrible! (laughs) But, oh man they thought it was great. My daddy, too! He loved it. Now, I liked plenty of stuff I heard on that label. They later had a good A&R man… lotta good people on that label. But that was Johnny's thing. They already had the arrangement worked out. I just happened to go. We got there and I just started playing with them. Then Johnny said "Let's put it out as the Ballard Brothers". You know 'cause there was a lot of  "Brothers" at that time—the Louvin Brothers, the Everly Brothers—all kinds of brothers.
SC:  Now the co-author on "Nobody But You" is listed as J. Sydnor. Who exactly is that?
JB:   I believe his first name was Jimmy.  He lived in Cincinnati. He wrote the words to that side and my brother Johnny put the music to it. He didn't play on it. But he wanted Johnny to go in partners with him and get the thing together.  I remember he was excited to death about it this boy was. I was thinking that this poor boy didn't know what he was doing, but they went on and recorded it that way. He was a blind boy that went to school with Johnny…
SC:  Where did Johnny go to school?
JB:   Louisville. He was at the blind school over there. It's still there. I think he quit in the tenth grade.
SC:  I  just found out  that your brother Johnny was blind. Was he born blind or was it an illness?
JB:   No he wasn't born that way.  He was about three years old when it started. I think it had something to do with the measles. 'Course he was operated on about five or six times, but back in those days they didn't know that much and thought everything was cataracts.  He was about seven, I think, when mama took him to Louisville. I looked up and he was gone one day. They took him to get some schooling. 'Course she worked and my daddy worked and there wasn't nobody to take care of him. They figured that was the best place for him.
SC:  Your brother Johnny is primarily a bass player, though, right?
JB:   Yeah, but he started off on the guitar.  Funny story about that. Johnny wanted a guitar awful bad. Well, momma didn't want to get him one. The guitar was about $25 and that was all she made each week. But Johnny threw a fit and threatened to wander out into traffic if she didn't get him that guitar. (laughs) But what happened was when I got a job playing for about six or seven months, Johnny and Kenny were still playing and making seven or eight bucks a night and I was making 15-20. Good money at that time! (laughs) I didn't have a bass player.  Had a sax and a piano player.  I had just bought my first electric guitar from a place in Lexington right there on Main Street. It was a '58 just like Buddy Holly's Stratocaster. So anyway, mama kept asking me why I didn't ask the guys to hire Johnny since we were making more money.  Now Johnny was just a chord guy and I knew he would be lost playing with us. I told him "Johnny, why don't you get a bass or borrow somebody's bass and learn to play that and maybe I can get you a job".  Well, he borrowed a bass and started playing with us. It went real good, too. The guy I was playing for, though, was a lot older than the rest of us and he was real tight with his money. He didn't want to hire Johnny 'cause that meant less money for his pockets. The whole band offered a dollar each from their money if he would pay the rest and hire Johnny. He kept saying no. Finally, I said that if he didn't hire Johnny than I was quitting. That's all I had to say.  So, my brother got hired playing with me.  And I would have quit, too. Later on in through the years, I found out that Johnny wouldn't have done that for me, though. Still wouldn't…
SC:  Really, that's a shame…
JB:   Yeah, he lives right here in town, but we haven't seen each other in a couple of years. He seems really resentful about something. But, he was never really close to anybody in the family.
SC:  Now, your first recording for REM records was "Darling Take My Hand". Was that recorded in Mt. Sterling at WMST?
JB:   That's right. It was already recorded when I met Bobby (Mooney—owner of REM). He was over here on Limestone Street. I knew a guy who knew Bobby. So I walked in there and played it for him…maybe two or three old songs. "Darling Take My Hand" sounded  the best, of course. I arranged all that and I got Kenny and Bill Wasson to twin the guitars…to play twin guitars.
SC:  The label on the single credits Kenny Whalen and Earl Watkins on guitars…
JB:    No, it was Kenny and Billy Wasson.  Earl wasn't even there.  Somebody must have messed up the label. Johnny wrote "Darling Take My Hand" a long time before this. But the arrangement was no good. I got the idea for the twin guitars from an old song that I had heard…I can't remember the name of it now. But that song had twin saxophones in it.  So I just used guitars. That way one of them could play a roll while the other was playing. It was good being able to tell them what to do (laughs)…I mean they would do what I wanted. I knew those guys well and I knew they had been
playing their country music on Saturday nights, but I wanted to stay away from that straight country  sound.
SC:  Who was playing on the rest of the session?
JB:   Well, Johnny was playing bass. The drums and piano was played by two black musicians—the Lizzie brothers. Johnny Lizzie was on drums and Wendell was on piano. And the sax player was another
black guy from Paris named Charlie Bishop. He also played the sax on "Say You'll Be Mine".
SC:  How is it that one some releases your backup band is the Rhythmrockers and later the Rejects and even later I've seen shows with you and the All Niters?
JB:   Well, the guy I was talking about—Charlie Bishop—he was playing sax, I was playing rhythm with him at the time they (REM) wanted to record us.  He had a band called the Rhythmrockers. So…I
just in order to get them to do it for nothing…to get along…I put their name on it, too. That way there wouldn't be no problem about paying 'em. See, I paid Kenny a little bit. Heck, he would have probably done it for free, but he got a little bit.  But, see, this was Charlie's band I had been playing with for a couple of years and he was quite a bit older than us and I couldn't pay everybody…I left about a year after that and started playing by just myself. My brother Johnny came with me and we started getting a band together and that became the Rejects.
SC:  So how did the name Rejects come into play?
JB:   Well, the Rejects.  We was playing out at Joyland Casino for the kids.  About every other week I had to hire me a drummer or whatever it seemed like.  Finally, one guy in the band said "Man, Jimmy, we're getting all kinds of rejects for the band", and he started laughing.  Well, when we went over to the studio to record the next single. Somebody over there was telling that story and he said we should put it out as Jimmy Lee Ballard and the Rejects.  Heck, I said I don't care. I didn't even think about it. I never did like that name. But, you know, we always had two or three guys leaving and coming back.  I'll tell you the funniest thing…we had just picked that name and we went over to the drummer's apartment and we were all sitting around drinking.  Well, he's laying on the floor all drunk. He says "Hey, I know what we should call the band…Jimmy Ballard and the Futher Mucking Plucking Arabs". (laughs)  We started dying laughing. I said that was great, but knew we could never get away with it! How he thought of that I'll never know. And he was an educated boy, over there at the college and all. The All Niters was easy. You know Hank Ballard and the Midnighters…well, I got that from him. I was Jimmy Ballard and the All Niters. That was the last band I had.
SC:  "Tell Me Little Darling" was the next single. Was that recorded at Mooney's Liberty Road studio?
JB:  Well, almost. It was recorded in his garage. This was before he put up the studio building in the back of the house. The flip "A Different Twist" was just something I made up right there.  We called it that because the Twist was going good and we wanted something with Twist in the title. I heard later down in Somerset (Kentucky) that being used for the music on a radio show.
SC:  So when you did "Tell Me Little Darling", who was in the Rejects?
JB:  Well, that was Johnny on bass, Bucky Harper on sax, Shirley…he hated to be called that…we called him Jay—Jay Congleton he was the drummer. The organ was played by a guy called  Osborne. I can't think of his first name…uh, he was kin to the Osborne brothers…he just retired from being a principal or teacher or something.  He practiced and practiced 'cause he wanted to play like Bill Doggett.  He had that B-3 Hammond set up. What was his name….his son plays the banjo now. Dean Osborne, that's his son. I'll think of his name.
SC:  The only song of yours that I haven't heard is the flip-side to "Wang Dang Do" a song called  "I Love Her"…
JB:   Yeah, "I Love Her".  "Wang Dang Do" we just more-or-less made up. Somebody said do the wang dang do and we just started with that.  This was in the new building that Mooney built in the back
yard. Man, it was like July and we were so sweaty and hot. It was really meant to be just a goofin' around thing, but Bob wanted to put that out. He thought the kids would like it.
SC:  But is "I Love Her" like a ballad or what?
JB:   Yeah, I was out in California playing with Timi Yuro. This was in '64. I was sittin' around real sad one night and thinking about my daughter. I just sat there and wrote it. Just in a few minutes. That was recorded with my last band the All-Niters.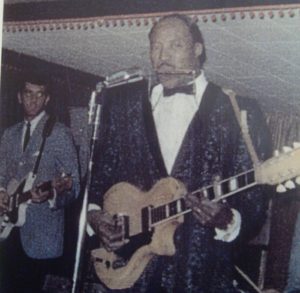 SC:  Now I know that here in the 50s/60s the clubs here in Lexington were still heavily segregated and you preferred black clubs. Did you ever encounter any problems either in the white clubs with your black bandmates or you being in the black clubs?
JB:  Oh man, when I first started…like I told you, the Houserockers were playing three nights a week and I was usually playing three or four nights a week. But when I had a night off, I would go over to one of the black joints on Georgetown Street. The Cotton Club was over there and they'd be playing there a lot of times.  But I never had any problems.  People knew me and knew I wanted to play. I'd go over there and see Ike and Tina, Etta James, and people like that when they came to town. I'd just show up over there with my guitar and they'd all be like "Hey, come on in!".  Some of the people would look at me funny, but then I would ask to sit in onstage and get to playing and hitting some good licks…and alright they'd be screaming!
SC:  What are your recollections about Little Enis and The Fabulous Tabletoppers?
JB:   Well, people followed 'em quite a bit. 'Cause they were one of the first white bands to be playing out a bunch, you know. But, they were always talking about other bands, like "Awww, those guys ain't worth a damn".  They would say anything about anybody.  Nobody I know wanted to work with 'em.
SC:  Didn't you end up sitting in when Enis was on one of his drunk spells?
JB:   Yeah! They fired him…I was a little leery about it 'cause I don't play like him. I don't get down and roll all over the floor and act like an idiot…
SC:  He wasn't that great of a guitar player really, anyway…more of an entertainer…
JB:   No, but he could play much better just sittin' around by himself than he ever could onstage. But people thought he was good 'cause he played the upside down guitar. But, I did some weekends.  And then Enis would sober up and come back.  But you know that one single they had wasn't that bad…
SC:  Which one, the REM one is pretty good, but I like the one on Klondike better…
JB:   Is that the one that was called "Hi-You Silver" [Talk To Me, Baby – sc]. It was recorded maybe in Nashville. Scotty Moore had something to do with it. He had come to town a few times looking to record somebody. I got to meet him one time. I remember he had just gone into the restroom, I went in there and was standing there. I said "Scotty, my name is Jimmy Ballard, and I'm glad to meet you. I've always admired your playing. What do you think about this new Conway Twitty song—It's Only Make Believe. Everybody says he sounds like Elvis." He looked at me and said "Hell, he sounds a helluva lot better than Elvis!". (laughs) I'll never forget that.
SC:  Who did you first leave town to play backup for?
JB:   Well, that would be Charlie Daniels. Only back then he wasn't anybody. He used to play a lot out at the Southland drive bowling alley. There used to be a room out there called the Rebel Room. He would play there. One night he asked me if I wanted to go on the road with him. So I did that for a little bit. That was back in about '64. I did some stuff with Billy Joe Royal and was on the road a little bit with Conway Twitty in the 60s.
SC:  Was your band playing much outside the area at the time?
JB:  Oh yeah. We went out to Wichita, Kansas in '64 for about six months. Then we went down to Tulsa, Oklahoma for several months. Then back to Wichita. Then out to California.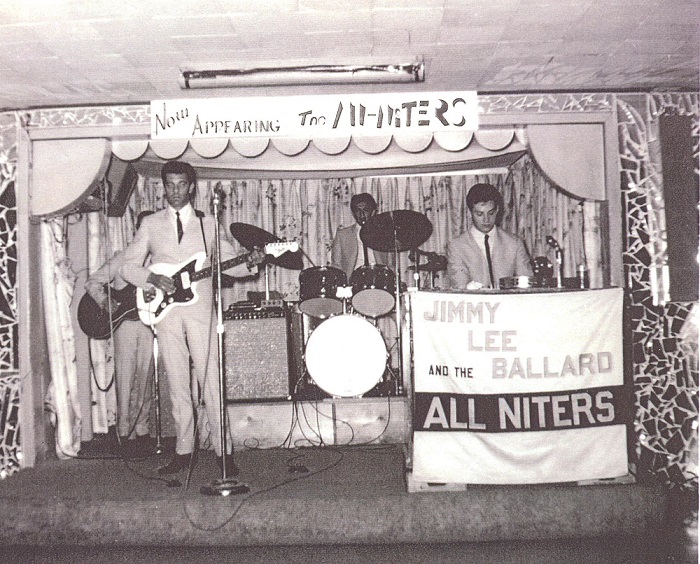 SC:  Who was on that trip?
JB:  Well, it was me and Johnny and Jerry Cole was playing drums. I had a guy named Daryl Wainscott who played keyboards. Great keyboard player. After he got back from Vietnam he flew out to Vegas and was playing out there. Last I heard from him was in '85 or '86 and he was still playing out there.
SC:  I've got a late 70s single by Jerry…
JB:   The reason he went with us is because he was a friend of the organ players. We were only out there about a month…and God…he couldn't play drums! All he wanted to do was get drunk!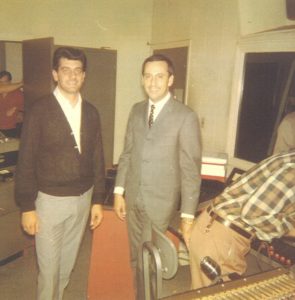 SC:   So did you do any more recording when you got back in Lexington?
JB:    The last thing I recorded was in about '68. Ronnie Dove took me to Nashville…Ray Stevens arranged all the songs. The Anita Kerr singers were on that, too. I recorded four songs that they picked. And I didn't like it. The only one I liked was an old song called "This Should Go On Forever" that was an older song from maybe '55 [1958 – sc]. Do you know that one?
SC:  No, I don't know that one.
JB:   Well, I got a tape of it. I'll play it for you. There ended up being this big mess with one guy wanting the session money back and another guy wanting the recordings.  Ronnie Dove wanted to try it in three states and see how it did, but this other guy didn't want to do it. So the thing never got released. I've just got a cassette tape copy of it, now.
SC:  Do you know what happened to the masters?
JB:  No, that other guy that was partners with Ronnie Dove…I can't remember his name. Hell, he probably threw them in a drawer or threw them away.
SC:  How was it that Ray Stevens was involved?
JB:  I don't know for sure, but, man, he was great. I'd be just part way through it and he'd coming running out saying "Hold it. Hold it." He'd look over at one of the girls and she'd say "I know. I was a little flat." I hadn't heard anything wrong. (laughs) He heard EVERYTHING!
SC:  How did you get hooked up with Ronnie Dove?
JB:  Well, the only reason he took me was because I was playing guitar with him at the time. He was going down there to record a couple songs. Somebody said "You ought to record Jimmy Lee".  I didn't get but a couple half hour sessions. They picked the songs and I thought to myself that if I'm here in Nashville and they want to record me—I better do what they tell me to. Even though I didn't like it.
SC:  What were you doing in the 70s and 80s?
JB:   Well, I was playing here pretty steady.  But,  I was getting tired of it. I quit drinking and smoking back in 1982 and I was just tired. I realized that I wasn't going to be able to make a career of this so I just wanted to slow down and stay home more. So, then I just started playing some weekends in Paris. In the late 80s I would play some private jobs.  Recently, I thought about trying to get a job on a cruise ship—you know, playing and all. But so far haven't had any luck.  I wouldn't mind playing again. 'Cause I love music. But, you know, I've got friends who play in smoke filled sports bars. They lug all that equipment around and make 30-40 bucks each. It's just not worth it.