Kenny Whalen and his group of Travelers have entertained Kentuckians for nearly 50 years – with Kenny's contributions stretching back even further into the musical past (nearly 60 years spent onstage). The importance of Kenny's picking on area artists and recordings cannot be stated strongly enough. He was the go-to for label managers, artists, and booking agents any time a song or singer just needed to sound…well…BETTER! His guitar picking is instantly recognizable on dozens of recordings and his long career is a true testimony for his love of music.
Below is my original Lexingtunes entry for Kenny that was written in 2001.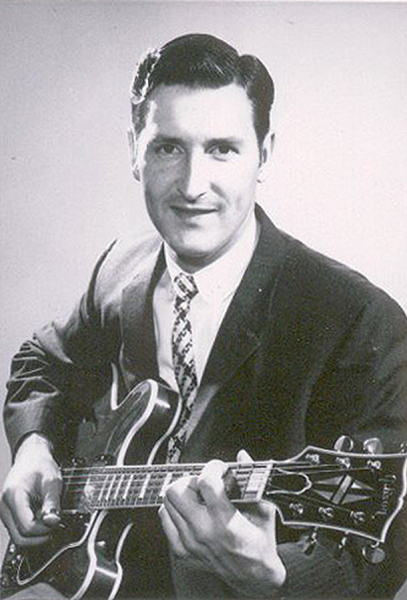 KENNY WHALEN & THE TRAVELERS
Orville Kenneth Whalen (vocal, guitar)
b. Aug 21, 1936 Bourbon County, KY
Original Members:
Billy Wasson (guitar)
Dean Abbott (drums)
Kelly Bach (piano, vocal)
Tommy Johnson (bass)
Bobby Jack Spencer (vocal, guitar)
Other Members:
Dan Sandusky
J.C. Sawyer (steel guitar)
Mike Mackin
Jerry Galbraith
Gary Whalen (drums)
In a forty plus year musical career, guitar slinger Kenny Whalen has appeared on nearly every type of recording imaginable—rockabilly, country, bluegrass, rock 'n roll, rhythm 'n blues—and played on some of the most memorable recordings of the Lexington area. For the last thirty-five years, he has fronted the Travelers and continues to deliver quality entertainment to Central Kentuckians.
Born in rural Bourbon County in 1936, Kenny was twelve years old before receiving his first guitar—a twelve dollar Stella as a gift from his mother. Heavily influenced by the thumbpicking style of Merle Travis and Chet Atkins, Whalen practiced whenever possible to achieve the same sound as his idols. Home recordings from the late 50s give testimony to his increasing skills as a picker.
In 1957 Whalen moved to Lexington and landed a guitar job on channel 18's "Stan Corman's Country Caravan". As a member of Stan Corman and the Happy Hollow Boys (along with Smiley Mason, Claude Farmer and Dewey Kirby), Kenny was able to begin showcasing his talents to the Lexington area. It was during this time that he accompanied Jimmy and Johnny Ballard to Cincinnati for his first trip into a recording studio. It would be the first of dozens of trips in the next decade.
Kenny befriended Bob Mooney in 1960 and this led to his being called to play on many early REM sessions during the next few years. He appeared on recordings by artists such as Little Jacky Wayne, Braunell Richey, Jimmy Lee Ballard, Charlie Monroe, and Esco Hankins. During the same period, Whalen was also picking lead for Jack Rains' label behind vocalists Tommy Baldwin and C.P. Hazelwood. Even Sun-Ray called for Kenny to add his guitar to a Cliff Carlisle release.
During the late 60s, Whalen also began to work with local labels on promotion and traveled with Sun-Ray owner Jimmy Price and REM's Mooney to Nashville for various recording conventions. He also became involved in studio production with Rains and helped produce sessions for Buck McKenzie and Williamsburg's Keith Buck.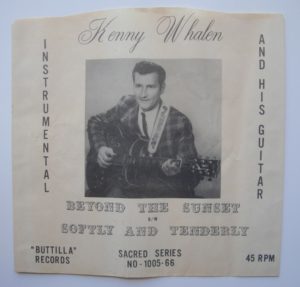 The start of 1967 found Whalen forming his own band the Travelers. A single on Rains' Buttilla label quickly followed –a cover of the Carl Belew penned "Stop the World (And Let Me Off)." The single enjoyed regional success, but a strike at the RCA pressing plant in Rockaway, New Jersey kept the band from getting additional copies while the record was receiving strong airplay. Another single appeared on Buttilla later in the same year—the Rains-Whalen composition "Next Time I Fall In Love" backed with the traditional "Greenback Dollar". This, too, received regional play.
Throughout the late 1960s and 70s, Kenny Whalen & the Travelers played the region at clubs like the Continental Inn, LaFlame, Circle H, and the Palms. In addition, the group backed many touring country singers that appeared at Clay Wachs Arena such as Loretta Lynn and Sonny James. Kenny Whalen kept busy on the side doing session work for artist like Kendall Hayes and J.D. Crowe at burgeoning Lemco studios. Other members of the Travelers were working elsewhere as well: Kelly Bach assisted Mooney's Trophy label and later moved to Nashville, Bill Wasson appeared on several local 1960s records and Jack Spencer released solo efforts on the Appalachian and Dove labels.
Today, Kenny Whalen & the Travelers play to capacity crowds each weekend at the Kentucky Jamboree in Georgetown. He has continued to release tapes and CDs for the Buttilla label as well as writing songs for fellow Jamboree artists. [2001 – Shawn Chambers / Lexingtunes]
***Sad to report that Kenny passed away on May 14, 2017 at the age of 80.  – Shawn***
Discography:
45s:
BUTTILLA
13167 Stop The World (And Let Me Off) / Wheels    1967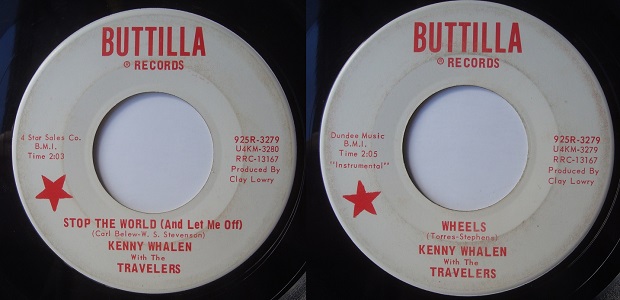 81467 Next Time I Fall In Love / Green Back Dollar    1967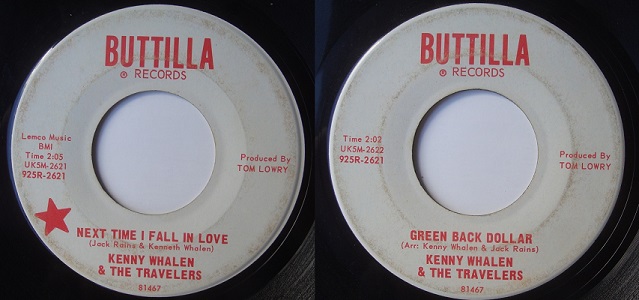 Interview Disclaimer: The interview may have been lightly edited (some questions / answers re-arranged chronologically and/or combined for readability). The intent was not to publish and I have tried to always transcribe verbatim – so any grammatical errors are left in place. Any factual errors are my mis-understanding of a low quality mini-cassette, faulty memory or a combination of the two!
Interview with Kenny Whalen–September 21, 2000
SC: Shawn Chambers
KW: Kenny Whalen
SC: When and where were you born?
KW: I was born in Bourbon County on August 21, 1936.
SC: What is your full name?
KW: My full name is Orville Kenneth Whalen. And, of course, my stage name was always Kenny Whalen.
SC: When did you start playing guitar?
KW: Oh…I guess about high school. When I was about 13.
SC: Did you buy your first one?
KW: No, my mom bought it. Twelve dollars…and I'd give anything if I had that guitar. (Laughs) The neck looked like a chair rail, but I liked it. (Laughs)
SC: What kind was it?
KW: A Stella. Cheap guitar. Very cheap. Just a little round hole flat-top. But I do wish I had it!
SC: Who was some of your early guitar influences?
KW: Well, of course, Merle Travis! I tried so hard to copy the way he played. You know, the thumb picking style. I always listened to Merle. I am a big fan of Chet Atkins, too. Both of those guys are absolute legends and I wanted to play just like 'em.
SC: So when did you move to Lexington?
KW: Oh…1957.
SC: The earliest recording I know about you appearing on is the Jimmy Lee Ballard single on REM in 1960. Was that your first time recording?
KW: No, I don't think so. I must have been in the studio with somebody before that….that's pretty early. The one that Jimmy Lee Ballard and I went to Cincinnati on was 1958. I do remember that. "Nobody But You" was Johnny, his brother—he was blind—singing on that…it's on Starday.
SC: Wow, I had no idea that Jimmy had something out with his brother that early. The later Jimmy Lee stuff has such a great sound with you and Earl Watkins on guitar.
KW: Yeah, "Darling Take My Hand" was recorded at WMST Mt. Sterling's radio station. This was before Mooney had his studio set up on Liberty Road. WMST was up above the fire department over there at Mt. Sterling. We was all young just having fun.
SC: At this time, where you a full-fledged member of any group?
KW: No, when I first came to Lexington in 1957 or 58, I got on TV with a group called Stan Corman and the Happy Hollow Boys. I don't know if you've heard of him. He was from Nicholasville. They had a show on channel 18. I worked over there with a guy named Smiley Mason as well as Stan Corman. Stan's son is now the mayor of Nicholasville.
SC: Who else was in the Happy Hollow Boys?
KW: Well, of course, Stan Corman, Smiley Mason, Claude Farmer and Dewey Kirby on the upright bass.
SC: What was the TV show like? Was it trying to appeal to the after-school crowd?
KW: Yeah, it was just a half hour thing. I played guitar on it. Then later in 1961, I worked on another show with a guy from Winchester called Buck McKenzie…
SC: Right! I remember I have a Buck McKenzie single on the Superior label that you did the producing for…
KW: Yes, and also I did some work like that for Keith Buck from Williamsburg. But Buck had this show on channel 27. I worked with them for a while. It was Buck McKenzie, myself, and a fiddle play from Lancaster Kentucky.
SC: Did you play on either of the Keith Buck or Buck McKenzie sessions?
KW: Keith Buck…uh, we went to Nashville and did a thing. "Gone Is The Past" that was cut in Nashville. And "It's Been A Blue, Blue Day"—not the Don Gibson song. This one was written by myself and Jack Rains. I've got those upstairs somewhere. I'll tell you who played on the session. A guy named Charlie McCoy was on harmonica, Pig Robbins played piano. This was just in one of the little side studios down there, not one of the big jobs. He had a group of girls singing, but it wasn't anybody big like the Anita Kerr singers or anything. But Keith Buck, as I said, he was from Williamsburg. He owned WEZJ over there.

SC: What other work were you involved with at the time?
KW: Well, me and Kelly Bach worked with a group that did fraternity type things over at UK. Worked with Donnie Campbell. Played a lot of fraternities. I don't even remember the name of the group. They went to college there. I was just a country guitar player and I felt kindly out of place—but, I did alright, I guess, because they kept me. We had a lot of fun. Got to see a lot of pretty girls…(laughs)
SC: Now I'm sure you watched your fret hand the whole night (laughs)…
KW: That's right I did!! (laughs)
SC: When did you form Kenny Whalen & The Travelers?
KW: I started the Travelers in 1967. I had been working with Earl Watkins at the Circle H and things like that. We split off. He stayed at the Circle H and I left. I formed the Travelers and have been with them to this day.
SC: Who were the original Travelers?
KW: Well, myself and Billy Wasson on guitars. Dean Abbott from Houston, Texas, played drums lives in Richmond now. Kelly Bach played piano just like Floyd Cramer. He could sing, too. He would do "Great Pretender" and knock out! Last I heard he was in Nashville. Tommy Johnson played bass. Later on Bobby Jack Spencer came to sing and stayed with me 20-something years. Jack's a great singer. That was the first group.

SC: Which single was first "Greenback Dollar" or "Stop The World (And Let Me Off)?
KW: "Stop The World" was the first one. They came out the same year. Now Earl Watkins sang tenor on "Stop The World (And Let Me Off)". I think a boy named Gene Rhodus played bass on that one. Last I knew he was in Florida. Right after is when Tommy Johnson came in and played bass for me.

SC: Now I know you had pretty good luck keeping these guys around for a long time…
KW: Yeah, I was fortunate to have such good players for so many years. Jack Spencer was with me over 20 years. My steel player JC Sawyers has been with me since 1978. Dean Abbott was with me 15 years. Billy Wasson was with me 35+ years. He just moved to California about 3 months ago.
SC: Did you guys play a lot of the local clubs like Brock's?
KW: We never went to Brock's. We were more or less weekend musicians because everyone had jobs. We played at La Flame, Circle H, the Continental Inn and we worked a lot of places outside of town like Carlisle or Nicholasville. Really we didn't have to go far because when Clay-Wach's Arena was here we got to open for everybody. I'll show you in my scrapbook. Loretta Lynn, Esco Hankins, Sonny James and all kinds of people. Loretta offered me a job several times, but I didn't go. That was before she really got a good band together, but I didn't do it. I don't know why now…
SC: What can you tell me about the Buttilla label?
KW: Well it was started by Jack Rains. I worked with him early on, but it was Jack's label. Still is. It was named Buttilla after his first wife. That was her middle name. Our first single "Stop The World" was recorded January 31, 1967 over at Lemco studios. It was a cold night, but a hot guitar (laughs)! That was our first release for the label. I think he had some singles out before us, though. But Jack still is putting things out today on that label. You know, tapes and CD's and things. I have had a couple of CD's on that label in recent years.

SC: Now "Stop The World (And Let Me Off)" was your biggest hit, I guess. Do you remember how many were pressed or sold?
KW: Well at the time, RCA pressed the records. Of course, at that time they did a lot of custom pressings for everybody. And "Stop The World" was really doing good, man. People were really asking for it. A fella out here had the House of Records…Mr. Stevens—out here on the Beltline—he handled it for us. He had racks all over, and he was out of 'em and we were wanting 'em. Well, RCA went on a strike and that killed us right when we needed 'em. They were custom pressing and you couldn't get 'em! And records are something that when they're hot, you gotta have 'em right now. 'Cause a week or two later they might not be so hot. But we still did okay…I know over 4000 were sold in the region. I mean I'm not a singer—I'm a guitar player, but I tell you with this single I just got lucky!
SC: Did you work on any other sessions?
KW: Well. I worked with Kendall Hayes. You remember Kendall…he wrote "Walk On By" for Leroy Van Dyke. Great guy. I was a pallbearer at his funeral. Kendall, myself and JP Pennington recorded a tape over at Lemco and when it was released on the label he had the name down as "Hayes Kendall". (Laughs) He just liked to do things like that. You had to know Kendall. He loved the Three Stooges and was always cutting up. But he was a heck of a talent. He wrote a great song that Hank Locklin recorded called "Darling, I Was Coming Home To You". Beautiful song.
SC: Now you also appeared on the Charlie Monroe REM albums, too, right?
KW: Yeah, I was brought in on guitar to work on that. What a great honor to work with him! I mean here I am in my 20's getting to make an album with Charlie. Later in the early 70's, I got to work on some albums with J.D. Crowe and, of course, he hit it big later on. So, I really got to work with a couple of really class act bluegrass musicians. Let's see… I also did some playing on a Cliff Carlisle thing he did on Sun-Ray back in the late 60s…Boy, I've played here and there on so many different things I can't remember them all!
SC: So what kind of work are you involved in now?
KW: Well, of course, I play with the Travelers every Saturday night in Georgetown at the Kentucky Jamboree. We have a great show up there. We usually have from 300-500 people there. And I've done some CD's and tapes lately for Buttilla. One is done with Jennifer Pinkston a young singer who is on the Jamboree. I'm real proud of her. She sings one of my songs called "Love Insurance" on one of her tapes. You all will have to come up and see the show. It's different every week.
SC: Yeah, we'll do that. Hey thanks for having us over and sharing your stories!
KW: Anything I can do for you. You just let me know. I'll always be glad to talk to you.