I could write a whole story about my search for the elusive Little Jacky Wayne, but I will save that for another day. I will only mention that it spanned nearly two decades with many dead ends. From the first time I heard his single I was itching to know the story behind the small cat with the white felt hat (thanks, Lee). His REM 45 is easily one of the most prized rockers in the state and the single is sought by collectors around the world (sorry he does NOT have any copies!). Finally pulled from the shadows of Lexington's musical past – Little Jacky gets the spotlight he deserves. Enjoy! – [2018 Shawn Chambers / Lexingtunes]
"I thought I'd never have to hear that song again. Until you brought this back out … there's people I played with all my life don't have a clue. I just didn't mention it."
The story of Jacky Wayne could have been over before it even really started. Born prematurely on July 8, 1948 at the family home in the High Bridge community he weighed just over three pounds and those first days and weeks were touch-and-go. The family was resourceful and Jacky later learned just how much. "Grandmother put me in a roasting pan on the oven door and prayed all night and fed me with an eye dropper since I was so small," he recalls. Later in life, he would pen a tribute song "If You Don't Believe in Miracles, Don't Look at Me." Although Clifton and Ollie ultimately had five children, the third-born scrapper named Jack Wayne Waldrop was the only child to survive.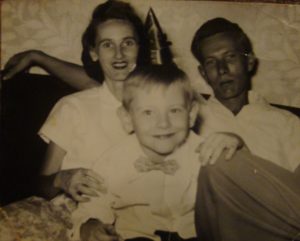 Rural life in the 1950s meant working hard and the Waldrop patriarch was certainly no stranger to back- breaking labor. The family had relocated to Ohio around 1951, and Clifton spent time working most often as a truck driver and later in a rock quarry when the family returned to Kentucky. Despite the long hours Jacky's father seemed to have had time to entertain the family and was a true multi-instrumentalist playing the guitar, steel guitar, mandolin, and even the fiddle. It is little surprise that by age seven or eight Jacky was gifted a guitar. He freely admits that this first guitar was "pretty much just for looks," but he could hit a lick "just enough to get by to do what I needed done." He must have played and sang well enough because he was about to prove his talent to a large audience.
In late June 1957 just across the river in Covington, Kentucky, Hank Williams' widow Audrey was bringing her traveling National Country Music Talent Show to Holmes High School. A contemporary newspaper account states this show would include "several country and hillbilly singers from this area vying for first place honors" and that the winner would "qualify for recording and personal appearance contracts." Jacky recalls that "my Dad entered me. I did a couple of Elvis songs and won the dang thing. Won a recording contract and a spot with the Red Foley Show."
True to the contest declarations, Jacky Wayne was given a spot almost instantly at a show at the Cincinnati Gardens. The large crowd did not intimidate the little rocker as a he broke into a trio of Elvis songs: "All Shook Up," "That's Alright Mama," and "Hound Dog." Jacky was clearly too young to be star struck as he only has strong recollections of fellow performer Smiley Burnette from that bill.
The Gardens spot was clear indication that Audrey William's promises to the winner were good, but what of the recording contract? This promise, too, was kept. Jacky recorded two songs at an unknown Hamilton, Ohio, studio. His rendition of "How Far is Heaven" made famous by Kitty Wells was followed by "I Don't Know About Tomorrow." Destined to be issued on a regional Ohio label, it appears there was some financial issues with the studio and when the senior Waldrop tried to fetch the tapes the studio door was padlocked. These recordings unfortunately are lost to history.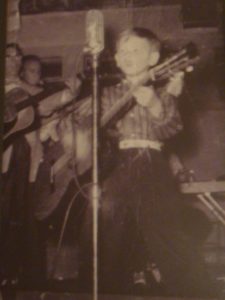 On a brighter note, Jacky was included on several tours and had many more regional appearances where he was able to share a stage with such country luminaries as Little Jimmy Dickens, Marty Robbins, Red Foley, and Ferlin Husky among others.
A change of scenery brought fresh opportunity to the budding singer. When the family returned to Kentucky, Jacky Wayne had access to one of the nations' largest country music shows close at hand – John Lair's Renfro Valley Barn Dance. It was only a matter of time before Clifton had him appearing on the stage there.
Just a short distance away, an active music scene had developed in Lexington. Several small labels had been in existence already, but when veteran country songwriter Robert Mooney opened his REM studio at 327 N. Limestone Street in early 1960 it brought forth the rock-n-rollers. Many REM records pressed in the first year or two like Tommy Baldwin's "I Know", Jimmy Lee Ballard "Say You'll Be Mine", Earl Watkins "One Night of Happiness", Billy Lathrem's "King of Rock and Roll", and the Fabulous Tabletoppers "Rocking Mountain Dew" have become central Kentucky classics with Jacky Wayne's "White Felt Hat" standing just as tall!
The 1960 REM recording session is shrouded in only slightly less mystery than the first one in Ohio. Neither Jacky nor Kenny Whalen could recollect the rest of the session players. Jacky Wayne recalls Whalen playing a "green Gretsch with four leaf clovers on the pickguard. It was a really pretty guitar." He remembers a kitchen-sized studio that was equipped with a two-track recorder on the rear wall.
Rehearsal time was minimal. The material for both sides was new to him and per Waldrop "I can't remember nothing but just going in and doin' it two or three times and then just doin' it." The short rehearsal was obviously enough as Jacky delivers the goods like he was born to it.
It is uncertain how long Mooney had been sitting on these two songs, which he co-penned with Jimmie Skinner (A-side) and future local label owner Jack Rains (B-side). "White Felt Hat" is a straight contribution to the sartorial genre already consisting of such classics as "Blue Suede Shoes," "Pink Pedal Pushers," "Black Slacks" and others. Clearly Mooney saw a novelty factor in both the song and the pint-sized opportunity in his studio. For emphasis, it was Mooney's idea to market the record under "Little" Jacky Wayne.
The flip-side ballad "Chance to Love Again" is a tale of lost love and could easily be dismissed as a throw away – especially given the age of the heartbroken singer. But when Jacky growls "C'mon love I can hardly wait!" it is easy to BELIEVE it. At a minimum, it is easy to believe that HE believes it.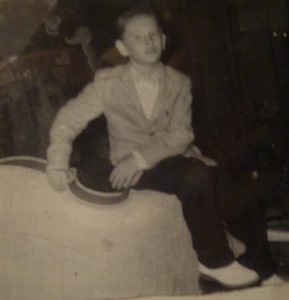 With records in hand, Clifton and Jacky were back on the road playing sock hops and teen clubs in Lexington and Louisville and selling the new REM record for $1 to fans. The record was being spun on some Louisville stations and in addition to radio waves Jacky had appearances on the Nick Clooney Show as well as Stan Corman's TV show. He also appeared with Stan, Kenny Whalen, Esco Hankins, Little Enis and other locals at places like Joyland Casino.
Father and son traveled to Nashville in November of 1960, just a week after "White Felt Hat" was reviewed in Billboard Magazine to press the flesh at the annual Country Music Festival. Mooney was on hand as well and all parties involved worked their contacts hoping to extend into a national market. Jacky was enjoying a breakfast session with the Everly Brothers and Bob Luman when the weekend festivities were dampened by an announcement that Johnny Horton had been killed in a car wreck in the wee hours of the morning.
Returning home, the Waldrop's maintained a correspondence with fellow Kentuckian, Red Foley, in the hopes that he could arrange a meeting with Chet Atkins at RCA. This was not to be. Soon both internal strife and external forces would stop what momentum the family had.
Nearing his teen years, Jacky and his father had increasing friction about time on the road. "Actually I wasn't really gung-ho about doing what I did, but he had me booked here, there and everywhere and traveling everywhere and at the age I was at I'd just as soon been at home playing baseball or basketball," he remembers. His father was only in his early 30s and clearly had abundant energy to work and still make bookings as well as orchestrate the frequent out-of-town trips. Jacky would often protest and at least one outburst was particularly memorable.
"I can remember getting mad at my dad for wanting to take me somewhere that I didn't want to go. I told him I didn't want to do this…and I took what few [records] were laying around there and buried 'em. In the backyard. A hundred or two."
These small quarrels were minor compared to the serious car crash that Clifton had, which broke both hips and nearly killed him. His recovery would take nine long months. Ollie Waldrop kept the family together as best she could while working full time and caring for both a recovering husband and a growing boy. She did not possess a driver's license so the show bookings and gig travel dried up. This must have been a mixed blessing for Jacky Wayne as he was soon to be entering Jessamine High School where he could play sports and be a regular kid, but clearly he never wanted to see his father injured no matter how many shows he had to play.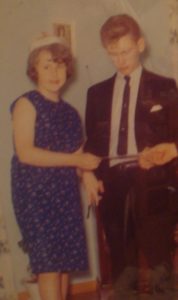 For a while, the music was silent. Jacky played sports, graduated high school and right on the heels of graduating in 1966 he married his childhood sweetheart, Diane, and landed a full-time job as a machinist for the Herald-Leader in Lexington. It would be a few years before Jacky had the itch to perform again and this time it would be different. It had to be fun – and on his terms.
Around 1970, Jacky – who was now playing keyboards – joined with Gary Figg (guitar, vocal), Billy Oaks (drums), Johnny Stevens (bass), and Joe Price (rhythm guitar) to form Stone River Band. This group would play together for roughly a dozen years with Jacky taking most lead vocals following the departure of Figg.
Nearly from the beginning the band began playing Elvis tribute shows in addition to their country sets with Jacky on vocals in full jumpsuited-splendor (courtesy of his wife's excellent sewing). It was a happy accident stemming from the band encouraging Jacky to try it and the Elvis shows became real draws for the band and were booked often.
Family life was still a priority and Jacky would take an extended break from music from around 1973 to 1977 to spend time with his young sons. Like his father before him, Jacky clearly influenced his sons and both are involved in music today.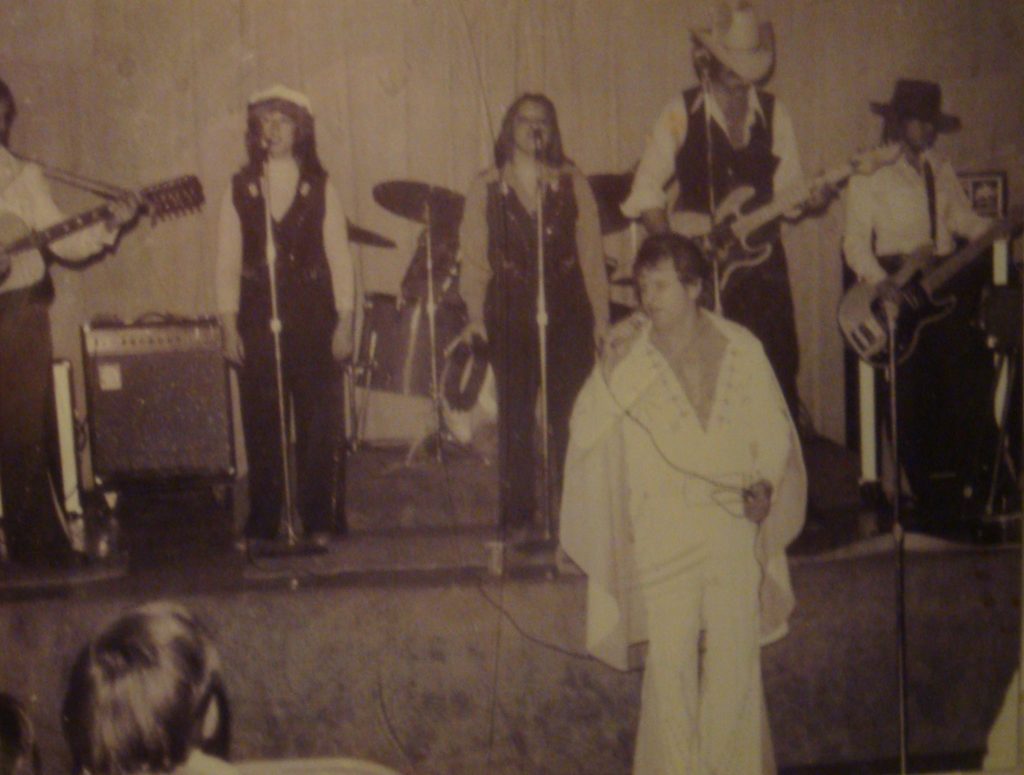 The death of Elvis shook the music world and Jacky was one of many artists who wrote a tribute to the King. He had a real chance to get the song out, but it was not to be. Jacky recalls, "I wrote this song 'Back Home in Graceland' and met with JD Sumner and he was gonna record it with the Stamps. He told me how much they liked it and said he would call me in two weeks. Well JD called me back…he said, 'They won't let us do it because Ronnie McDowell just released 'The King is Gone.'' So that killed it right there. It killed it."
This attempt may have failed, but another record was on the horizon. In 1981 Stone River Band with Jacky on lead vocal recorded two of guitarist Price's original tunes for the local Lemco label. The B-side "Temptation Woman" is upbeat and gives a sense of Waldrop's Elvis-tinged vocal style.
After the dissolution of Stone River Band, Jacky continued to perform around the Central Kentucky area at events like the J.D. Crowe Festival, local barn dances and jamborees, and other community events – really anywhere he felt like playing. In short, he had fun.
In addition to his casual gigs, Jacky continued to evolve his Elvis show and around 2012, he began playing tribute shows for area veterans – something he continues to this day. His wardrobe now boasts more than a half dozen jumpsuits (again, courtesy of lovely Diane).
Jacky had a chance to meet up with his REM session guitarist Kenny Whalen again just a few year ago. Kenny invited Jacky to come by and join him at his long-standing country music show. Sadly, Kenny became gravely ill and passed away before the two could reunite onstage after more than 50 years.
These days, Jacky is happy to play with the Country Memories band who he fondly calls "not only a talented group but the greatest friends ever." The band is a family affair with son Chris Waldrop on rhythm guitar and vocals, Rick Horton (guitar/vocal), Dale Horton (bass/vocal), and drummer Ray Baker. They can often be found playing in the same High Bridge area of his birth – and possibly coming to a town near YOU!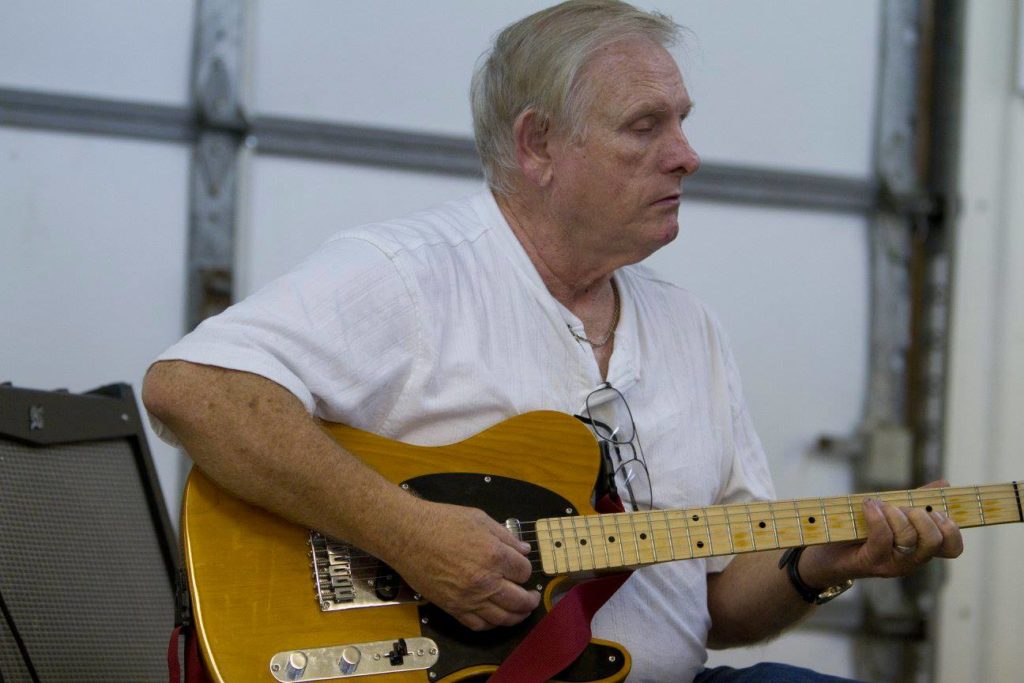 Discography:
45:
REM
306       White Felt Hat / Chance To Love Again      1960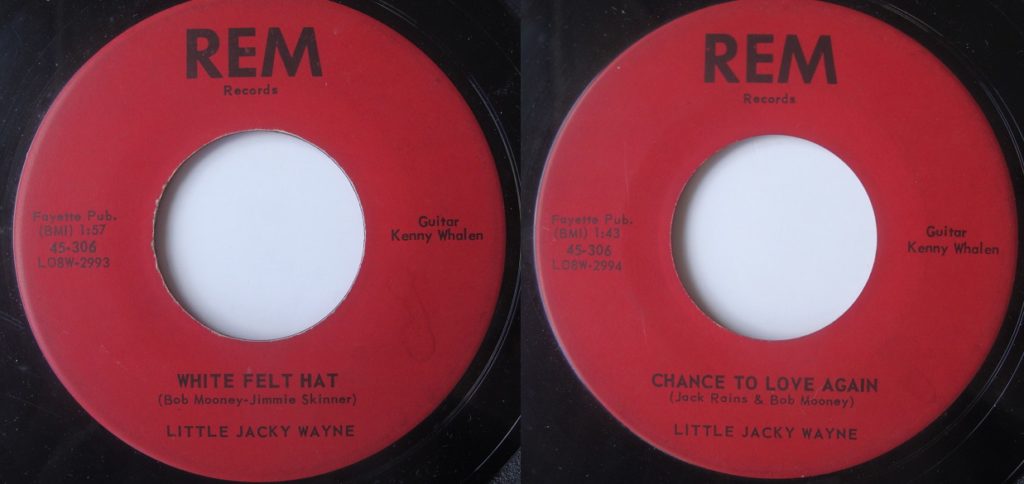 NOTE: "White Felt Hat" has appeared on several European rockabilly compilations throughout the years starting as early as the late 1980s on LPs such as Desperate Rock N Roll Vol 6 and White Label's Bob Mooney and Rem Records
Stone River Band:
45:
Lemco 810342*       Forgotten Lady / Temptation Woman      1981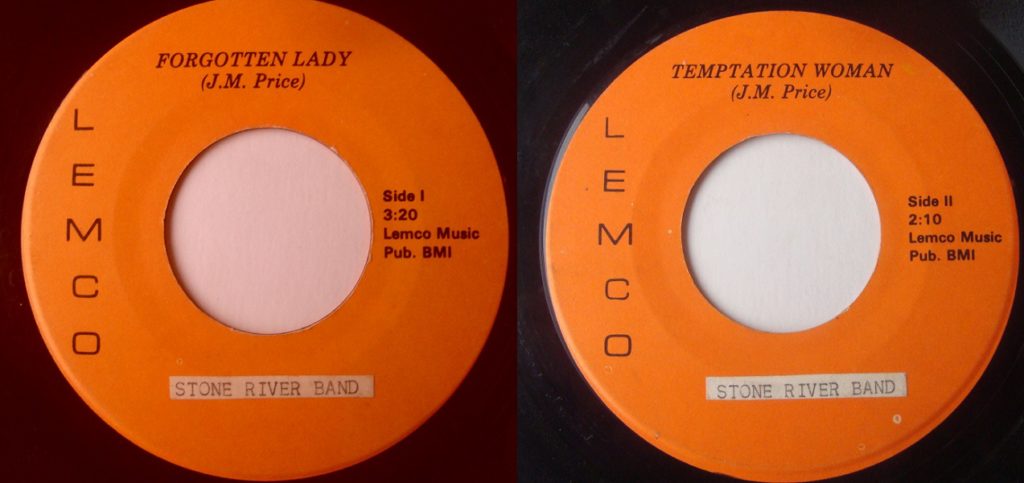 *dead wax matrix – label boasts no number and incredibly was printed without the band name. Note DIY fix above.