I think it was around 1994 the first time I chanced upon one of Frank Atkins' records at a thrift store. The label reminded me of a Johnny Bench tribute record I had and the price was certainly right. Over the next couple years I stumbled upon more and more copies of this record – literally finding a box of 25 once at a yard sale. Then one day I find a Lemco record from ten years earlier with the same song title issued under a slightly different name but when played it was clearly the same singer. From time to time (usually around Opening Day) I would think about various baseball records I owned and the two variations of "Cincinnati's Rose" cut over a decade apart. What was the deal?
Like most of these writings posted here, my initial investigation was for my own benefit. I tracked Frank down for his story and around 2002 wrote the piece below, which was intended to be an entry in the oft-spoken of Lexingtunes book project that never materialized.
Another baseball season begins. Hope still springs eternal.
FRANK ATKINS
Frank Hamilton Atkins, Jr (vocal, guitar)
b. July 21, 1947 Lexington, KY
Kentuckians are widely recognized for their sports fanaticism. Locally, perhaps no better musical example of this athletic adoration exists than the recordings of Frank Atkins.
Born the son of a local golf pro, Atkins developed an immediate love of sports. In his late teens he developed a strong admiration for the Cincinnati Reds Pete Rose. During this time, he began to play guitar and write lyrics on a casual basis. Shortly after graduating from high school, he ventured into the Lemco studio to record one of his compositions. His country song "This Time You'll Have To Make It On Your Own" was backed with a tune by long-time Lexington musician Charlie Wylie. Pressed in limited quantity and coupled with Frank's lack of desire to promote the song with live appearances, the song never received the attention or airplay it otherwise might have.
Musically, Atkins was not heard from again for nearly ten years. In 1974, after having witnessed Pete Rose score the winning run on Cincinnati's opening day, Atkins was moved to write a song about his idol. He again entered Lemco studios and within weeks had 500 copies of "Cincinnati's Rose" pressed. The single was released under the name Frank Hamilton—his first and middle names. His attempts to shop the song to country stars Charley Pride and Kenny Price proved unsuccessful. Atkins was able to distribute his record through local stores and at the golf course where he was employed.
Several trades and ten more years saw Rose return to Cincinnati and in pursuit of Ty Cobb's career hit record. Quickly, Atkins gathered his original song, added a verse to incorporate the chase to Cobb's record, and hit the studio again. This time the pressing would be 5000 copies and released on his own All-Star label. Local radio airplay was minimal, but, undaunted, Atkins sold his records outside Riverfront Stadium during Reds games and at several stores in town.
Frank Atkins' goal was not necessarily to have a singing career. He merely wanted to celebrate the life of an athlete he enjoyed and respected. Ten years apart and with two different recordings, Atkins achieved his goal with his musical tributes to Charlie Hustle.    — Shawn Chambers 2002
DISCOGRAPHY:
45:
A&A ALL STAR
No #   Cincinnati's Rose / Cincinnati's Rose Soundtrack   1985

LEMCO
814    This Time You'll Have To Make It On Your Own / Stop The Tears   1965 (?)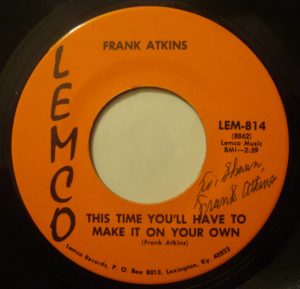 212    Cincinnati's Rose / Sing Along With Me   1974