Seldom will this site venture into the 80s, but Active Ingredients sure warrant a quick dip into the decade. The AI releases remain local classics and easily some of the most desirable punk releases in the state. The brief write up below was done around 2005 or so and was, again, going to be part of an unpublished book. Bear in mind this was going to be a mainstream publication with more of a "just the facts, ma'am" tone, so if you need dirt – Moore and Tarpey are easy enough to corner around town and I'm sure can give you drunken tales of debauchery if that is what you need.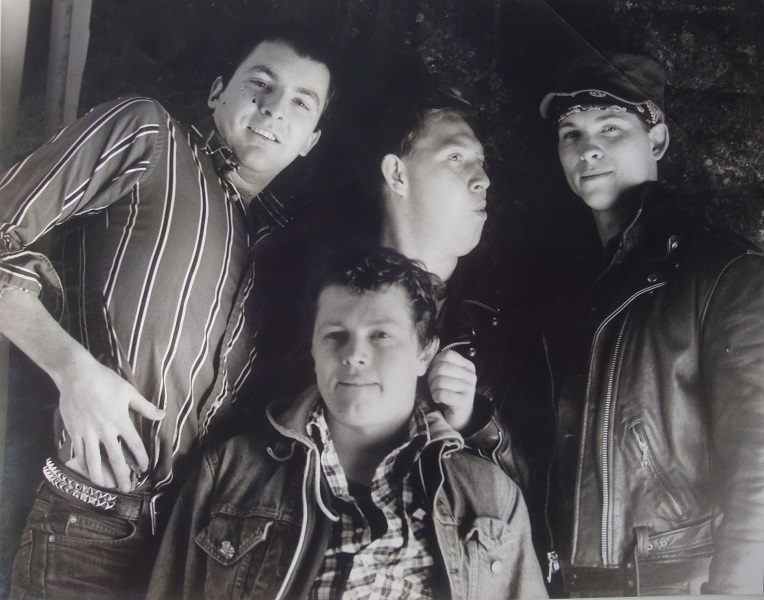 ACTIVE INGREDIENTS
Lawrence Xavier Tarpey (vocal)
b. Aug 4, 1957 Cleveland, Mississippi
Brian Frank Moore (bass)
b. Oct 19, 1958 Denver, Colorado
Kenneth Hillman (guitar)
b 1962?
Don Wooton* (drums)
b 1963?
*spelling? – shown as Wooton / Wooten on EP sleeves
When internal struggles caused the '70s Lexington punk pioneers the Thrusters to split; two very different bands emerged. Most of the members regrouped as Red Interiors and adopted a clean Euro-pop sound. Brian Moore, the Thrusters exiled bassist, founded Active Ingredients and continued in a hard-core vein. Fueled by frontman Tarpey's politically and socially charged lyrics and Hillman's full throttle guitar, the band quickly gained a local following. Regional gigs came with regularity and the band became a staple at Newport's famed Jockey Club. Here they gained credibility by opening for national acts such as the Dead Kennedys, the Replacements, Agent Orange, Henry Rollins and the Dickies.
The group's career was well documented on vinyl. A four-song EP released in 1984 featured AI classics "Service With A Smile" and "Take From The Poor, Give To The Rich". Recorded at Hildeen Studios, the picture sleeve and label were designed by Tarpey in true do-it-yourself spirit. Following the acceptance of this first release, the band pressed a second EP the following year.
Their sophomore effort Bringing Down The Big Boys boasted six songs. This record remains a showcase of the group's energy and talent. Sounding equally at home on the semi-comedic tirade "I Hate MTV" as on the serious "Cancer Of Hypocrisy", Tarpey demonstrated a lyrical and vocal ability matched by few in the region at the time. In support, they launched an East Coast tour which included a stop at New York's quintessential punk club CBGB'S. During the same year, AI's "Getting Healthy For The Holocaust" was included on a compilation released by local Splat! Records.
A full-length album was slated for release in 1987. Unable to find a suitable record label and lacking the necessary funds to press the vinyl, Flying Again was released on cassette only. Soon after this, a monetary dispute erupted which ultimately led to the demise of the band.
After Active Ingredients dissolution, Brian Moore and Lawrence Tarpey remained the most visible. Moore toured as bassist for Nine Pound Hammer and played with Gnarly Love and other bands. Tarpey established himself on the Lexington art scene and as a member of the Resurrected Bloated Floaters, Rabby Feeber and the Yellow Belts.
Discography
EP:
No label – 45 RPM
405074  Service With A Smile; Take From The Poor Give To The Rich / Straight Jacket; You Suck 1984

Fat-Man Records – 33 1/3 RPM
504023  Bringing Down The Big Boys:
Rock Stars; Service With A Smile; I Hate MTV / Cancer Of Hypocrisy; Take No Shit; I-C 1985*
*sleeve also found in fluorescent pink

LP:
Mr. Meat
No. #    Fly Again     1987*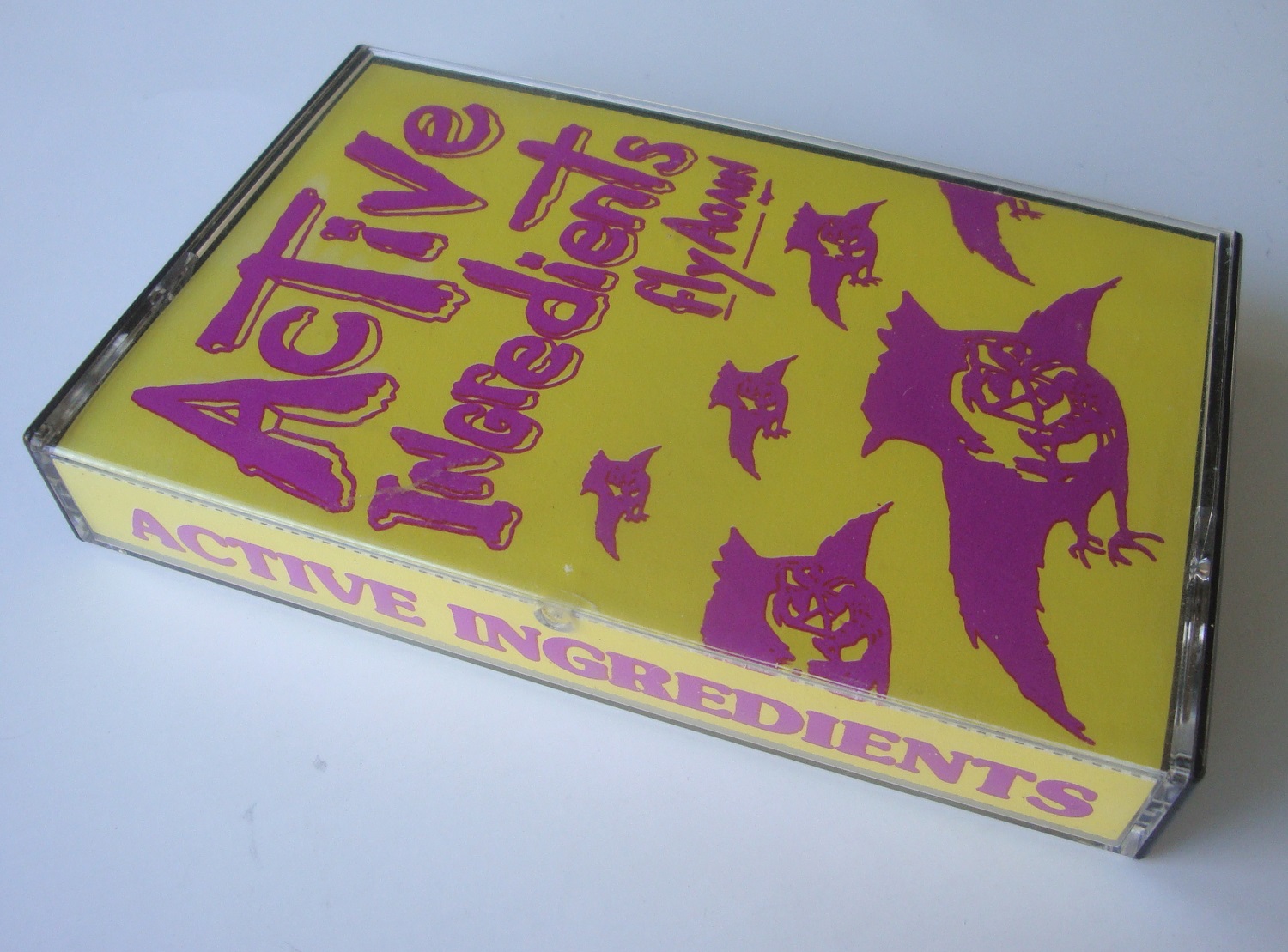 * Cassette release only