The needle tracks the groove and a plaintive voice begins to tell of a lost love…
Sadly, the Pratt Brothers only waxed one 45, but what a record! The now-classic flipside "The Wind Told Me So" features a hot guitar that helps lighten the mood of the mournful lyrics. It is really no surprise that Billboard 'One Starred' it on review – that rag never did understand small label hillbilly music. All the more reason to love it.
When I finally got my grubby mitts on a copy I really wanted to know more about the band and I was able to sit down with Eugene Pratt back in mid 2001. Eugene freely admitted his memory wasn't what it used to be, but he was really happy to talk about the band. He was an interesting man who still loved old country music, but also was fond of poetry and recitation. I remember he was thrilled by Ralph Stanley's recital in the movie "O Brother Where Art Thou" and he robustly delivered one of his own stark compositions to me while seated casually on the sofa. I only wish I had my recorder that day…
Below is my original entry written in 2001 from the oft-mentioned (well, by me at least) but never published Lexingtunes book project. There are possibly some errors due to a fading memory, my bad handwriting or some combination of the two. This has only been updated to sadly reflect the death dates of both brothers.
Well, I figured I was already about too old when we did that record, but Vernis he got a fire in his belly and…well…I guess he was still young enough to go give it a try. So he did!
PRATT BROTHERS & ROCKING FIVE
Eugene Pratt (bass)
b. Aug 14, 1931 Cornettsville, KY
d. Dec 23, 2014 Lexington, KY
Vernis Pratt (vocal)
b. Oct 30, 1936 Cornettsville, KY
d. May 8, 2012 Nashville, TN
Donnie Combs (drums)
b. Hazard, KY (?)
Lonnie Coots (rhythm guitar)
b. Hazard, KY (?)
Dave Dixson (piano)
b. (?)
Teddy Hurley (lead guitar)
b. Hazard, KY (?)
In the 1960s, many bands came to the central Kentucky area to record at one of the numerous studios. Most quickly returned home and left little sign of their appearance except, perhaps, an odd entry in the discographical listing of a record label. The Pratt Brothers could have been such a band, but their own brand of hillbilly bop has seen new life with collectors of the genre.
The brothers Pratt (Eugene and Vernis) were born near the Cornettsville area known as Little Leatherwood. Their father was a preacher and the Pratt brothers were exposed to church singing from an early age, but music was not a principle part of their lives growing up and would not become such until they were in their 20s.
The Korean War had started and Eugene and Vern entered the service. Eugene was stationed in Germany from 1953-56. While serving, he learned basic guitar chords from a fellow soldier. He was re-assigned to Texas and quickly found work as rhythm guitarist for a country band: the Tuxedo Texans. After his military stint ended, Eugene returned to Kentucky and entered Eastern KY University. Vernis had also been discharged and enrolled at EKU as well.
Eugene missed his time on stage and quickly recruited some of the best Hazard-area talent to form a band. With two great guitarists at his disposal including hotshot Teddy Hurley, Eugene turned to bass duties which he had also picked up during his time in the Lone Star State. With Vernis tackling the vocals the lineup was cemented and became arguably the first rock-and-roll band in the Hazard area. The sum implied by the band's name was never applicable, but Eugene admitted he just like the sound of it.
It was during his period of juggling academics and eastern Kentucky area concerts that Eugene was introduced to Richmond businessman Burdette Land. Land was impressed with the group and encouraged them to cut a record at his studio. The band drove from Hazard and arrived at night–unable to afford a hotel room. Locking their instruments in the car, the entire band slept in a city park awaiting their opportunity to record.
The two original compositions were pressed in small quantity on Burdette's fledgling label and it was never well promoted. Clearly, Land was a businessman first and record promoter secondly and this meant band bookings were mostly confined to the region. The brothers played together for a bit longer, but eventually moved in separate directions.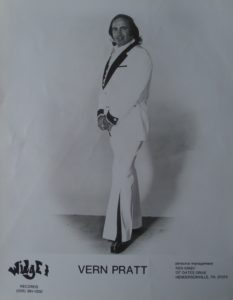 Eugene settled in Lexington and operated an 8-Track store on Industry Road, but worked primarily as a school bus driver. He still found some time to play music and in the 1970s played locally with bands like the Rangers and Movin' Motions.
Vernis Pratt worked in many careers including as a school teacher, but the pull to pursue music was too strong. He released one more local recording for Lexington's Lemco label before moving to the Nashville area in 1968. There he signed to the Avenue South label and release several 45s under the thinly veiled pseudonym 'Vernis P. Paul' including his most famous song "I Had To Wear My Sister's Shoes." He later recorded a full length country album for the Muscle Shoals-based Widget label. Pratt played locally often and toured with many major country artists such as Merle Haggard, Conway Twitty, Jerry Lee Lewis, Bill Monroe, and Charlie Daniels.
[2001 – Shawn Chambers / Lexingtunes]
Discography:
45:
LAND
30001/2 Go Find Your Love / The Wind Told Me So     1960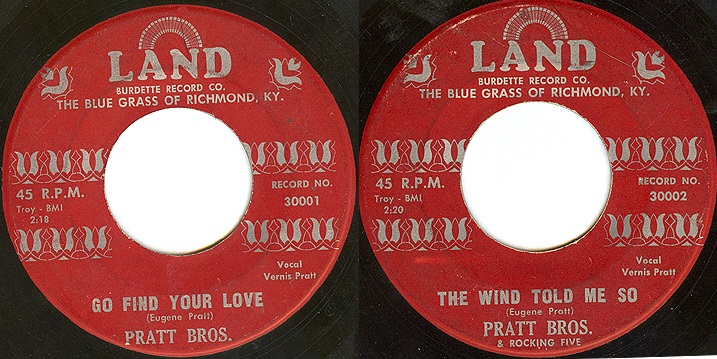 Vernis Solo Discography:
45:
AVENUE SOUTH
507 I've Lost You Like It Or Not / Looking For The Green Grass     1969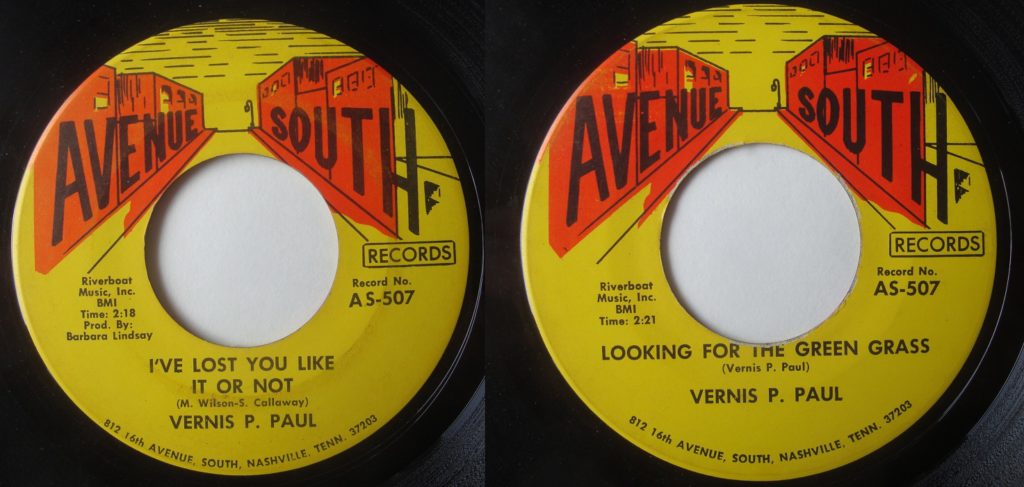 510 I Had To Wear My Sisters Shoes / Love Has Left My Heart      1970
(also released as a white label DJ promo)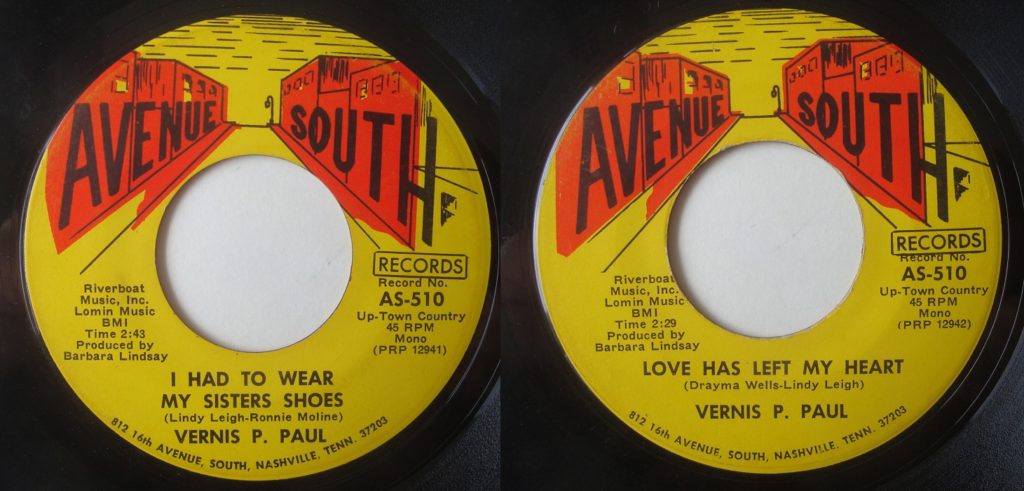 516 There's Never A Time / Time Has No Meaning   1970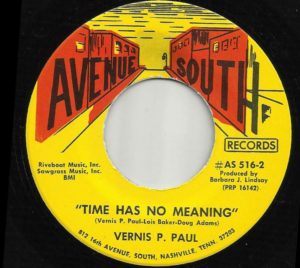 LEMCO
1006 Good Good Man / Mathilda     1966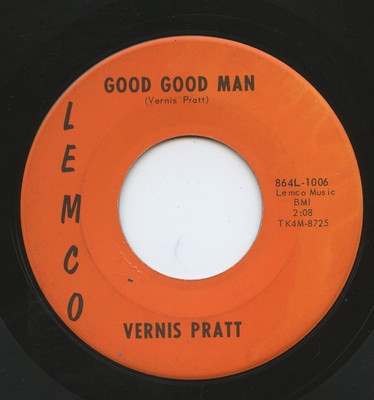 PLAYER INTERNATIONAL:
300 Colorado Cowboys / Pearl's Not A Girl It's A Beer     197-

WIDGET
120 Don't Miss Your Water / I'm A Drifter     1976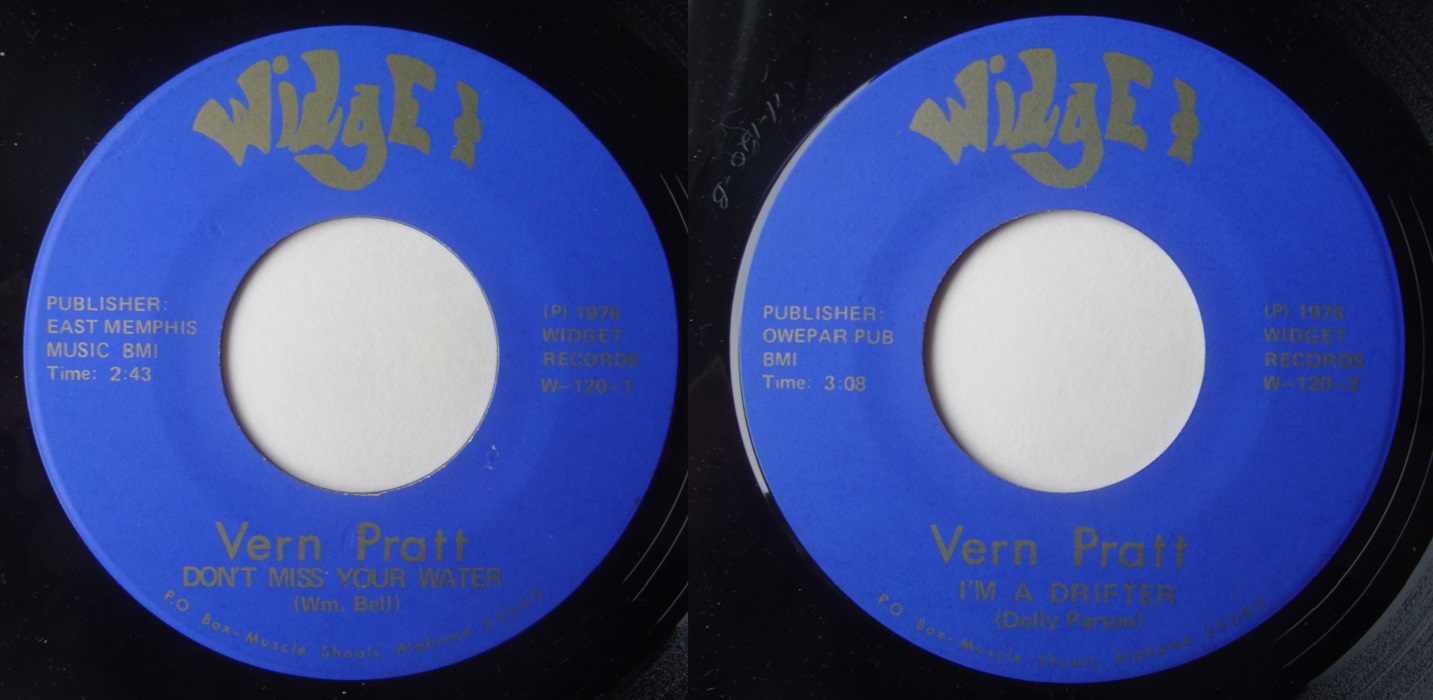 LP:
WIDGET
10017 You Don't Miss Your Water     1976